Although the inventor of today's top fashioned electronic tools, Steve Jobs has passed away, his overwhelming influence keeps shocking the whole word both now and in the future. Among his long-lastingly popular creations, besides Ipad and the Iphones, his exclusive eyeglasses, the so call Steve Jobs eyeglasses are enjoying a heating reputation recently.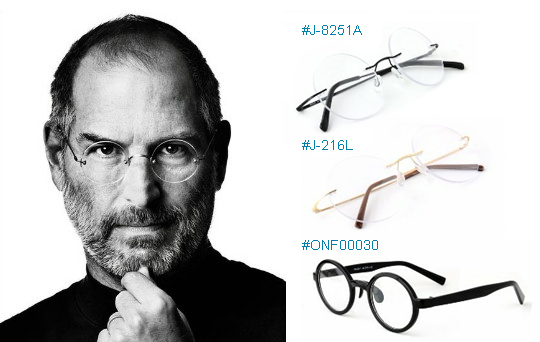 As the only glasses the father of Ipad prefers, the simple designed, frameless and round lens glasses reflect his philosophy. Steve Jobs eyeglasses are frameless. Without flourish edge, the transparent round lens are just like a peeled apple, bright, clean and flawless. The marketing executive officer of Power Bloom, a Hong Kong eyeglasses dealer, Garick Tsui has said that Steve Jobs was a completist. His requires to eyeglasses are lightweight and thin. Obviously, Steve Jobs implement his perfectionism on the production of the Apple as well as on his eyeglasses selection. Steve Jobs eyeglasses are his best choice.
On the other hand, Steve Jobs eyeglasses are an embodiment of minimalism. They are composed of three parts, legs, spectacles and lens. Every part is decoration free. Inferring from that, we know that Steve Jobs eyeglasses works as nothing but prescription glasses. It is similar to the appearance of the Apple stuff, single colored and no other ornaments but the logo. This is the inner core of Apple: what he sells are the functions of the tools, not the gimcrack good looking. The same to the Steve Glasses, it places the emphasis on the prescription function, but not other fashionable pursuit.
Power Bloom has come up with a slogan on the presentation: We lost a genius, but he left us his thought and creation, as well as his favorite eyeglasses. Besides the eyeglasses themselves, the deep meaning in the eyeglasses he left is focusing on the inside.